Brothers,
Monday evening we had the honor to be hosted at the Nebraska Club by Brother Frank Uryasz to celebrate our newest alumnus Derek 'Spud' Odell. We were able to share the room with active brothers, alumni and our house mom.
Since Derek joined Chi Phi, he has been an important member for our chapter. Last year he was our treasurer and excelled. He assisted us greatly in getting out of the red, financially. He is currently on the New Member Education Committee, lending his wisdom as the the 2nd oldest member of our chapter, thanks Br. Rosploch for being the oldest.
Even though he was only with us for two years, we are two years further along than we would have been otherwise and grateful for his friendship, leadership, and brotherhood.
Congrats, Spud! We can't wait to see what your future holds and hope to see you come around once in awhile!
Special thanks to Brother Uryasz for hosting our chapter for this evening. The meal was fantastic and we greatly appreciate your generosity and leadership!
#RahRah
Alumni, you may have never heard of the Alumni Installation Ceremony. Depending on the individual chapter's preference, the ceremony can be open, similar to pinning. For those not in attendance, the text of the ceremony is below. Thanks to Chi Phi of Nebraska President, Mark Winn, for performing the ceremony to Derek "Spud" Odell.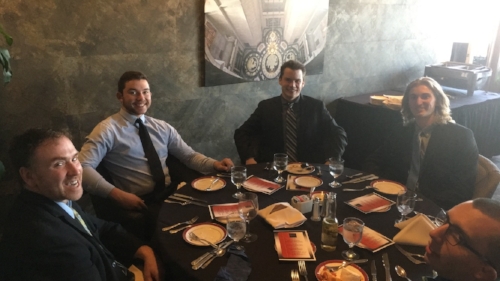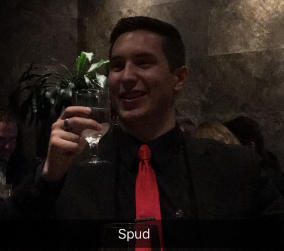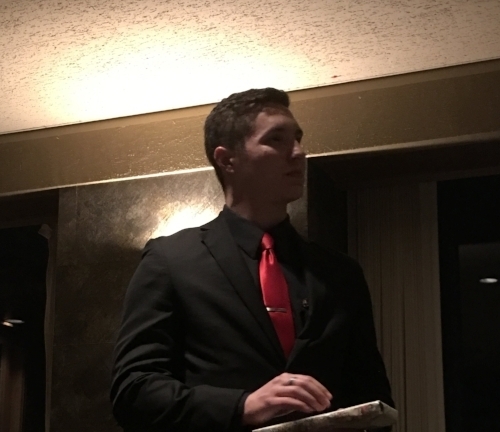 Alumni Installation Ceremony
(first spoken by the association president.) When we pledged, we took a few short steps out of the darkness. When we initiated we came into the circle of light. Now we stand at another portal. The time has come for us to become the light.
(now, the vice-president speaks.) Our new member ceremony tells us that it is meet and right at certain times to recall our history and heritage. The moment when you become an alumnus is one of those times. We spend a short time as a new member, a little longer as a brother, but our longest held form is that of an alumnus.
As you enter into this period of your life as a Chi Phi it is appropriate that we look back on our history as well as renew the bonds which hold us so tightly together.
This is a time for reflection and rededication to the very essence of what it means to be a Chi Phi. Let us then listen to a brief account of our history.
Since the beginning of time, man's inner urge for friendship and companionship of congenial persons has been one of the strongest human emotions. It has manifested itself in every phase of man's life since the recording of history. His innate belief in truth, liberty, and honest dealings has caused him to seek the comfort of association with others of like belief. At first the church, and later schools and literary societies were the havens for those believers, but strife among the churches and lack of organization within the schools and literary societies brought about the need for some other rallying point. Gradually organizations took form which we now call fraternities to satisfy, that yearning for friendship and association of men of like minds. So, my friends, the Chi Phi Fraternity was founded on friendship and stands for truth, honor, and personal integrity. During, the middle of the 19th century by a strange and wonderful coincidence, there were three brotherhoods in the United States bearing the name Chi Phi. Each was oblivious to the existence of the others, yet each stood for ideals of friendship of man with man. They are known to us as the Princeton Order of Chi Phi, founded at the College of New Jersey, (Princeton) in 1824, the Southern Order, founded in 185S at the University of North Carolina, and the Hobart Order, founded in 1860 at Hobart College. In 1867 the Hobart and Princeton Orders combined and formed the Northern Order of Chi Phi, then in 1874, the Northern Order combined with the Southern Order to form the Chi Phi Fraternity,.
Now that we have refreshed the memory of our earliest known beginnings let us now renew, and rededicate ourselves to the ideals that were set forth with such genius so long ago.
Vow of the Alumni
(the Vow is administered by the association secretary and repeated by the inductees.)
I, (state your name) - in the presence of these alumni - of the (state chapter name) - of the Chi Phi Fraternity - do hereby solemnly and sincerely - promise and vow - to rededicate and renew - my efforts to maintain and support - Chi Phi Fraternity.
I do solemnly and sincerely - promise and vow - to do all in my power - to assist and enhance - the alumni organization in my area - as well as the local chapter - whatever and wherever they may be. That I will recognize - my duty as an alumnus - of a national fraternity - to assist my alumni and undergraduate - brothers wherever they may be found.
I do furthermore solemnly and sincerely promise and vow - that I will continue to strive - to ever serve as an example - to other alumni and our undergraduate brothers - of the ideals of Chi Phi. And that I will continue to endeavor - so to regulate my speech and conduct - that they shall not impair - the dignity and sacredness of the Fraternity.
Finally, I do solemnly and sincerely promise and vow - that I take this oath of rededication and renewal – of support and assistance - without any equivocation - mental reservation - or secret evasion of mind whatever. This I swear upon my sacred honor.
(the association president speaks again.)
You are now charged with upholding three sacred oaths, those promises you made first as a new member, then as a brother, and now as an alumnus. Your life as a Chi Phi has now reached a new level and you must strive to live up to those new obligations with which you are now charged. Remember, we must strive to be examples to our undergraduate brothers of all the things that we implore them to be.
Truthful, dedicated, and living to the high ideals of our Founders, we must now become the light that guides our chapters toward even greater success than we have ever imagined.
New alumni should then he handed a new alumni packet and gifts from Chi Phi of Nebraska.
This is to be repeated by the alumni, at least once a year, usually at senior installations. It can also be read at special alumni meetings.
(Everyone will repeat the line "This is a time to remember.")
This is a time to remember.
We are Chi Phi. Born in 1824 on a Christmas Eve. Survivors of campus persecution. Rising out of the ashes of the Civil War to aid in the re-unification of our great nation. Living through a world-wide depression. Wellsprings of men and leadership through two World Wars. Remaining stalwart and unshakable during the turmoil of Korea, and Vietnam. Prospering during a national return to fraternity values during the 1980's. Reassessing, moving on and looking anew at our history and future during the 1990's. Stepping forward into the 21st century with all the courage of a bold vision. We are the sons of the Scarlet and Blue. We are the first among all. This is our history. This is our future. This is a time to celebrate Chi Phi and all that our great name implies. This is a time to look ahead.
This is a time to remember.
- - - - - - - -
During dinner, we sang Gather Brothers. If it has been awhile since you have last sang this song, then refresh yourself on the lyrics below. It is understandable if you find yourself humming it through out your workday later.
Gather Brothers of Chi Phi
(1) Gather Brothers of Chi Phi, Warm our hearts are beating;
Grand our purpose is, and high, Sacred is our greeting.
(chorus)
(2) Round each heart bright alter fires, Forms forgotten never;
Cheer us on in our desires, Ever and forever.
(chorus)
(3) Ev'ry bond to mem'ry dear, Brings to us a pleasure;
Whether others frown or cheer, Chi Phi is our treasure.
(chorus)
(4) Forward then with breast to breast, Leaving no life blighted;
March we to our common rest, Hands and hearts united.
(chorus)
(chorus)
We are bound by ties of love, eternally, fraternally,
While Chi Phi Brothers watch above, fraternally, eternally.
4.19.17